T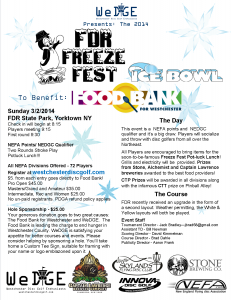 he FDR Freeze Fest is a charity event to benefit Food Bank for Westchester. The tournament is run in association with Ice Bowl.  Ice Bowl is a charitable organization that promotes a series disc golf events that are held each winter with an overall mission of raising funds to fight hunger. Related goals include having fun and connecting the disc golf community in a positive way to the community at large. Each year WeDGE runs two, The Kisco Klassic and The Freeze Fest.
There will be CTP's and other contests with prizes provided by local breweries and by Innova Discs.
This year we're adding a Pot-Luck Lunch to the Fest. Prizes from Alchemist, Stone and Captain Lawrence Breweries will be awarded to the top food providers.
For more information click on the flyer. To register go to Tourney Registration.